There's no denying we've come a long way toward equality throughout history — though that doesn't mean we still don't have a long way to go. Black, Indigenous, and People of Color (BIPOC) can still have a difficult time looking for and finding a successful career that fits both their needs and wants.
Sound familiar? If you're BIPOC talent on the hunt for a new job, you might find yourself struggling with confidence and self-esteem. You might be worried about different workplace environments and lean on thoughts of self-rejection. Unfortunately, those thoughts and worries will only make your search harder, and could even cause you to settle for a career that's less than what you truly deserve.
So, what can you do to build confidence in your job search? How can you feel more comfortable with yourself, and showcase your skills while also boosting your confidence when it comes to the jobs you're looking at? Let this be your guide to making your job hunt easier and more effective.
Overcoming Self-Rejection
One of the biggest hurdles you might face in your job search is your own lack of confidence. Unfortunately, racial discrimination is still happening in the workplace — including on job applications and throughout the interview process. You might worry so much about rejection that you set yourself up for failure before you even send in your resume.
There might not be much you can do to stop systemic racism in the workplace right away. However, you can start by getting a job and starting a long and successful career path. The more people of color who find success, especially in high-profile industries, the weaker racial stigmas and stereotypes will become. That starts with building your confidence and overcoming self-rejection throughout your search.
First, determine where your self-rejection is coming from. For many, it stems from having a poor financial mindset. You might think you're not "good enough" for a job with a high salary. Or, you might be so focused on finances that you're willing to apply for jobs that pay less than you deserve. You can combat those thoughts by creating a positive financial mindset. Try things like:
Changing the way you think about savings
Being mindful of your spending
Focusing on long-term goals
Knowing your net worth and credit score
Starting a path toward financial freedom
If your financial mindset isn't the issue, consider what else could be hindering your confidence. Maybe you had a negative job experience in the past or you've dealt with racism in your social life. When you get to the root of your self-rejection, you can start taking active steps toward overcoming it. If you choose to do nothing, that mindset will never change.
Knowing What to Look For
When you're actively looking for a job, you're really only one part of the equation. The other part is where you'll end up working. If you want to feel confident in your search, seek out places of employment that celebrate BIPOC employees. If you see a job posting or description that interests you, do your research on the company. Look for things like:
Diversity goals
EEO statements
Internships for people of color
Diversity training programs
If you apply for a job and get selected for an interview, that's when your real "research" on the company environment begins. Be prepared with questions for your interviewer, including what they like about working there, what positive things can they say about the culture, and how could the last person in that position have done things differently. The more prepared you are with detailed questions, the more information you'll get about the kind of environment you could potentially be stepping into.
If you're not sure where to get started, consider using job boards specifically designed for diverse professionals. These boards can take a lot of the pressure off of your search and make it easier to feel confident and safe with the businesses you're applying to.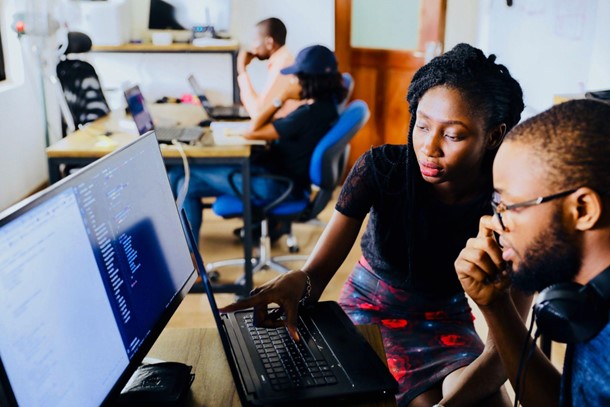 Marketing Your Skills and Strengths
Finally, nothing will boost your self-esteem more than marketing your skills and strengths. If you have to, force yourself to see your worth and your value. When you do, you'll be able to convey it on paper in your resume and cover letter, and eventually in person if you get brought in for an interview.
If you're not sure how to market your skills, start by building a strong resume. Or, consider putting together a digital portfolio if you're looking for a job in art, design, or marketing. Anything you can do to showcase your specific strengths will help you stand out from the competition. Attend networking events, share your passions, and create a quick "elevator pitch" to share with people who might have an influence over your career path. It's a great way to start feeling more confident about your strengths, and you'll get more comfortable talking about yourself the more often you do it.
Finally, work to avoid imposter syndrome. It can make you feel like you don't belong, or that you're not good enough for a specific career. BIPOC employees already have to deal with enough of that from the rest of the world. Remind yourself that you're just as qualified and skilled as anyone else and that you deserve the opportunities ahead of you.
Your perfect job is out there. Keep these ideas in mind to build your confidence while you're searching, and you'll feel better about starting a career knowing you have the skills, strength, and motivation to be successful.

Sign up for our BIPOC Talent Community by clicking here to find employers looking for talent just like you! 

Content Contributor:
Ainsley Lawrence is a freelance writer from the Pacific Northwest. She is interested in better living through technology and education. She loves traveling to beautiful places and is frequently lost in a good book.